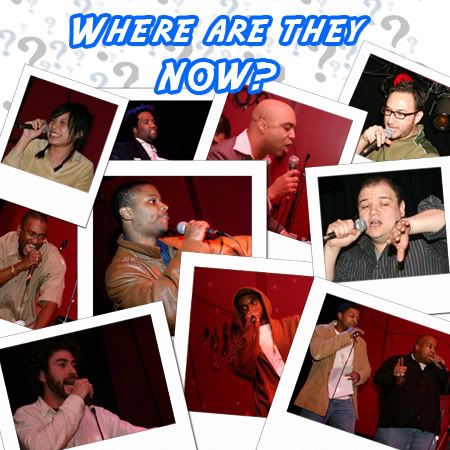 standing behind the turntables over the last couple years, i've seen TONS of faces come up on our stage (it's like that Def Leppard song). well, actually, i've seen mostly backs, asses, etc, but you know what i mean.

many of them, i just see that one time. others i may see a couple of times. and SOME take on the "regular" status, even if it's for just for a few months or so, and i'm seeing them quite a bit. it's a handful of these people that we're going to take a special look at today.

in honor of these fallen soldiers (most of which used to rock with us at Rothko) who are now nowhere to be seen... today...

wex wednesday's

is going to ask the question, "where are they now?"

in no particular order:

1. Where are you

Frank & Jamal

? We need you guys. Our bar tally especially needs you, Frank. Seriously, your absence is costing us money. Come back and rock 'Brooklyn's Finest'.... we'll reserve it for you.
2. Where are you

Goodwin

? Remember the days when you used to come out to Long Island to see our show at "the Downtown" and nobody showed up but you still treated it like you were playing the Garden? Yea, we do too.
3.

Jon & Tanya

, where are you two? We could always count on you guys to be there early & set the show off right. Tanya, our "I Got A Man" performance has yet to be topped. It's still talked about. Well, I still talk about it, anyway. Jon, you missed the Biggie tribute night... how... could... you?
4. Hey

Von Pea

, I know you're out there somewhere... but... where? You used to come, rep for the OKP's... always killed it. Helped establish the current trend of "no paper, playa". Come back, we'll add a new Kweli song... whatever you want.
5. Last, but not least,

Gerber

, you're in a dark office somewhere, pounding the desk, making lots of money, i'm sure of it. but where?? Gerber, you're a legend to us. Your picture made the New York Post, man!! Granted, you might not have wanted that... but i assure you, we didn't have a say in that!! Come back, you can do 'Big Pimpin' over and over and over. Shit, I'll talk Diggedy into letting you host the show for a few songs. We'll hire some backup booty girls to ASSist... whatever you need.

love, dj wex.