i went out with diggedy and his girl nicki tonight. 3rd wheel style. but not really, because it never feels that way... more like 3 friends just hanging out (bum bum, bum bum bitta buuuum bum).

anyway, first we out to pizzeria uno in forest hills. that's right. pizzeria uno.... in forest hills.

you over that yet?

we each ordered an alcoholic beverage (how could you not?). it's now up to you to decide which beverage belonged to which person.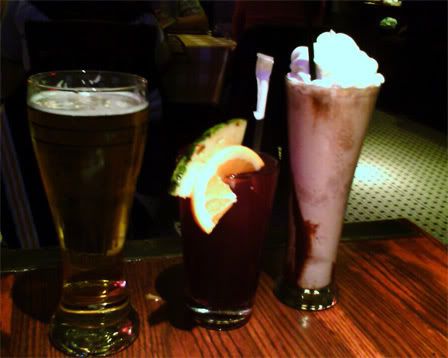 here's what you're looking at: on the left, a 20 oz Stella draft beer. in the middle, a glass of Sangria. on the right, a Kahlua Mudslide.

winner gets a free drink on april 6th. (digs, take care of that, would ya?)

after dinner we went and checked out adam sandler doing his best rainman. it was a 5/10.

peaces.

wex.